Join us in Italy. Discover your Tuscany. Embrace La Dolce Vita. 
Experience breakthroughs which bring more Joy and Love to your Life.
Hosted by Marisa Santoro.  
In the heart of Glorious Italy.
Saturday, June 9 through Friday June 15, 2018
Montepulciano Siena, Tuscany


Is this a true statement?
By 'guts' I mean, grace under pressure."—Ernest Hemingway
Hosted by Marisa Santoro. 
Marisa Santoro, Winner of the "Women of Influence" award by New York Business Journals. Former IT Executive on Wall Street. Founder of The Gutsy Leadership™ 
Ready to join us and have some questions? Reach out and we will be in touch shortly!

We value your privacy.
A small group intimate spiritual retreat. Unwind. Let go. Allow.
Take a non-negotiable spot in one area of your life, sit back and enjoy your  gutsy mindset spill over into every other area. 
You deserve happiness, success and more...
Let's talk about the gutsy breakthrough goals which haven't happened yet. Things you want to achieve and know deep-down you can accomplish...
… You want to design a life which supports you both professionally and personally.
... You want to walk away from a stressful toxic environment, affecting you emotionally.
… You want to reinforce your priorities and commitment to your health and well-being.
… You want to overcome your limiting beliefs about your value and particularly around earning more income.
...You want to create more balance, joy and free time in your life.
...You want to get clarity on your life's purpose. - and so much MORE!
But life is hectic and your plate is always full. You are frequently pulled away from these desires and don't know how to press PAUSE to nurture the things you want and need to grow.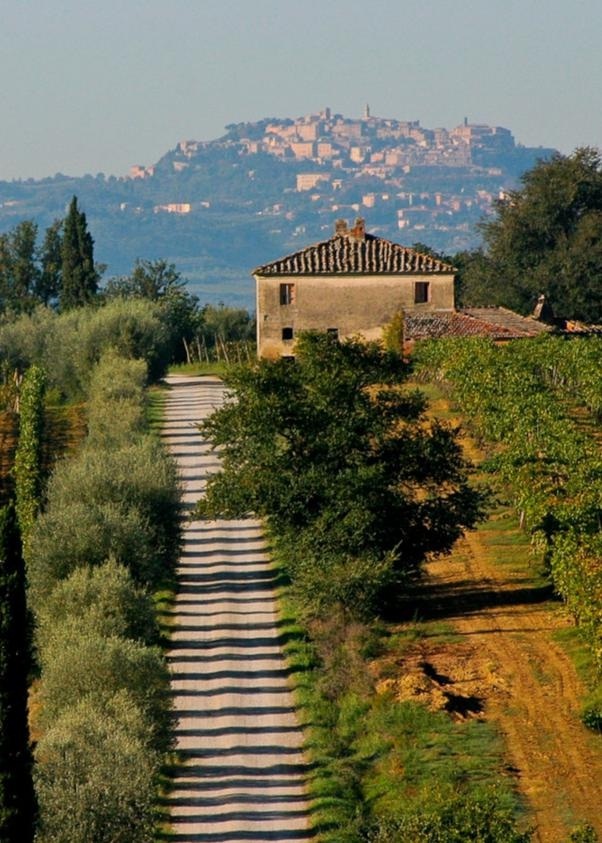 Pick a spot in any area of your life, whether that means taking that business idea and making it a reality, moving into more leadership, transitioning into a new career or discovering your next chapter as you move towards retirement or writing those chapters, authoring your first book.
.
How much? By When?  If you're not clear, neither is anyone else. Clarity is power.
TRANSFORM YOURSELF IN TUSCANY, ITALY!
---
Join a powerful spiritual 6-night retreat where we will co-create what that gutsy breakthrough goal looks like and map out a plan with a ripple effect that spills into all areas of your life - your personal relationships, confidence levels, home - setting the stage for growing a bigger version of how you see yourself today.
Marisa will personally walk you through a process of Clarity and Purpose and introduce you to set of success growth principles and proven step-by-step system for achieving anything you want in your life. It will teach you how to tackle daily struggles, live with passion and purpose, and realize any ambition that creates meaning in your life. These principles spell out practices used by the world's most successful men and women—proven strategies that can be adapted for your own life.
Because of the group's intimate size and like-minded energy, you uncover what's holding you back and set some realistic goals you can action right away which will stretch but not freeze you to move forward. Join us with a call before the trip and again after the retreat to stay the course with accountability, commitment and to tackle any considerations which have surfaced and perceived to be standing in your way and get you unstuck. These are typically expected and natural roadblocks when you return as you will have tapped into a higher spiritual level of what you can achieve. We address any fear or anxiety thought patterns attempting to replay.
You'll step into this transformative work perched on the
Tuscan hills in a typical "Agriturismo"

surrounded by a vast stretch of olive groves and vineyards

which produce the most sought after wines from Montepulciano.

Our stay is in the Tuscan countryside on farmland and in a home restored to its former glory, respecting the local architecture and the warm welcoming traditions which make Tuscany famous all over the world in the heart of Montepulciano - Italy's world renowned wine region.

Combine peace and calm for you to create your breakthrough vision...
Step into allowing abundance into your life, making your vision a reality...
Our host at our retreat location is the Mayor of Montepulciano, Andrea Rossi! We learned this only later after we reserved with him and are beyond words. The humble modesty of the people of this region, goes without saying. We are certainly in good hands. Truly a grateful gift.  🙂
It's a major step towards creating a life with meaning which you were meant for.
Here's what you'll achieve during this powerful one-week retreat…
GET CLARITY, CONFIDENCE AND FOCUS ON YOUR GOALS OPENING THEM UP TO A WIDER AUDIENCE IN A TRUSTED SAFE SPACE

GET UNSTUCK, TURBO-CHARGING YOUR JOURNEY TO A MORE SUCCESSFUL LIFE,  STEPPING INTO DOING WHAT YOU LOVE.

EXPERIENCE THE CREATIVE SHIFTS AND TRANSFORMATIONS WHICH WILL POSITION AND PREPARE YOU FOR NEW OPPORTUNITIES ALIGNED WITH YOUR PERSONAL DREAM

CREATE A STEP-BY-STEP PLAN OF ACTION, STAY THE COURSE AND STRETCH, CREATING A BOLDER VERSION OF YOURSELF.

GET PERSONAL GUIDANCE AND DIRECTION  ON YOUR PLAN JUST YOU AND ME (IMPOSSIBLE TO DO IN A LARGE GROUP SETTING!)

KICK TO THE CURB LIMITING BELIEFS SURROUNDED BY POSITIVE LIKE-MINDED ENERGY TO REMAIN MOTIVATED IN YOUR NEXT CHAPTER
My goal is to give you the proven system to achieve
ANYTHING

you want, leading from and trusting your intuition.
Our theme is FLOW.



F

ood.

L

ife.

O

lives.

W

ine.
Here's what your personal development experience will look like…
Transportation included from Rome airport.
Dinner included.
Welcome to your Agriturismo! (video above) Settle in and enjoy our first evening together meeting at dinner. This is your day to let go, unwind and share your intention for this retreat, open up about any limiting beliefs holding you back and soak in the countryside with a glass of wine, fully present in the moment.
Schedule your private one-on-one coaching session.
Breakfast and Lunch included.
Enjoy your onsite spa or pool.
(Optional)  Guided visit of Montepulciano and of a Winery in  the Montepulciano Countryside -  Tuscany's world-renowned wine region, followed by a Dinner at the Winery.
Breakfast and Lunch included.
With our compliments - transfer and entrance to the San Casciano dei Bagni village and relax at Fonteverde SPA's thermal pools.
(Optional)  Dinner in the Vineyard, ideal atmosphere for summer.
Breakfast and Dinner included.
(Optional) Visit  Pienza and tour of the "Ideal City".
(Optional) Take a pastry making course in Montepulciano
Breakfast and Dinner included.
(Optional):  Enjoy a culinary adventure at lunch, cooking an authentic Tuscan meal together, kicking back and enjoying the views of our Tuscan countryside backyard.
Breakfast and Dinner Included.
Pick up a free bike onsite, go on a hike on one of the neighboring trails.
(Optional) Rent an e-bike and tour the Tuscan wine region countryside.
On Our Last Evening...
Live the Lifestyle you Deserve
Arrive as who you will be 5 years from now at our "Come as You'll Be" party. Dress in your very best. All of your goals have been achieved. Throughout the evening, you will have the opportunity to applaud others in their achievements and to receive congratulations on yours. Champagne toast for letting your vision begin...
On your Day of Departure...
A New Perspective on Possibility
Breakfast included.
Prepare for safe travels home with a fresh perspective on your life's next chapter co-created in the heart of Tuscany.
Transportation included to return to Rome airport.
All Prices at Group rate for Optional Excursions can be found at the end of this page. 
1

GUIDANCE

You'll have opportunities to interact in person with me so I can truly help you with your personal goals and address your unique needs. Sharing your vision with an external resource is energy in motion, accelerating the things that you want even further. You can opt-out as well of these conversations. Lean into your gut on what you need right now.

2

RELAXATION

Enjoy plenty of relaxation time. Growth, expansion and insights occur during down time when we are not doing, but being in a state of allowance. Take time to hang out at the pool, visit the spa, reflect or meditate while gazing out over the gorgeous Tuscan countryside, or just kick back to do some planning or journaling. Decide how much or how little time you wish to let go and be.
Some optional excursions are also available such as enjoying free bike rentals on the property, going on nearby hiking trails, trying horseback riding, experiencing a wine tour of the nearby breathtaking Montepulciano countryside - the world renowned Italian wine region, a day trip to the thermal springs at Fonteverde SPA, a Pecorino cheese tour in Pienza, archery in the woods or guided visits of: Montepulciano, Pienza, along with the other hamlets of the area called Val di Chiana.
And oh yes, did I mention we'll be in Italy together?  : )
Every morning during the retreat, you'll wake up in your beautiful tranquil  suite (single or double occupancy available) in the heart of Tuscany, decorated according to the unique Tuscan tradition, famous all over the world. Immersed in the green and quiet Tuscan countryside, each apartment suite has its own entrance, garden and beautiful porch – ideal for outdoor meals. All apartment suites are part of the old farmhouse, comfortable and bright. Every apartment has: a living room, color satellite TV, kitchenette, mini-bar, microwave, telephone, bedrooms with in suite bathrooms. Wi-Fi in every apartment and in the common areas, swimming pool, boules court and mountain bike/trekking trails.
The spectacular scenery will awaken a deep appreciation of beauty  and possibility in you—so when you arrive you are energized  and open to receive the insights that are waiting for you.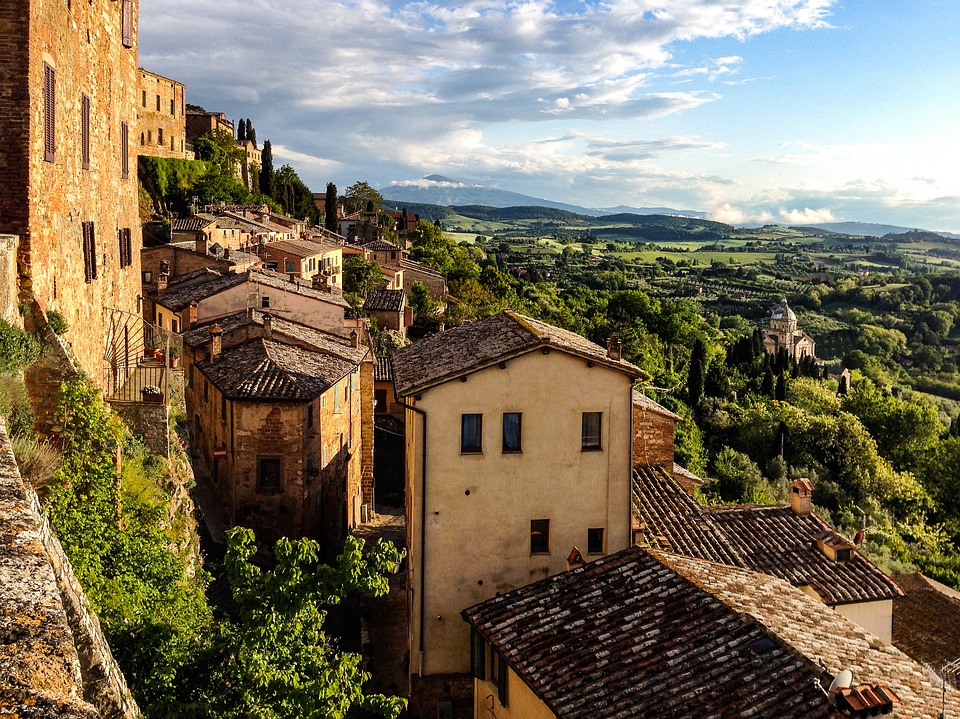 Tuscany's Dolce Vita
If you've never been to Tuscany, be prepared to have your breath taken away. Tuscany offers a dolce vita mix of hearty cuisine, fascinating history, and gentle beauty. With its manicured fields, rustic farms, cypress-lined driveways, and towns clinging to nearly every hill, Tuscany is a romantic image of village Italy. Venture beyond the fringes of city life and immerse in a sun and wine soaked escape. Plan some extra time before or after the retreat to visit Florence or Rome.
Here's your chance to add more joy,
balance, and surreal memories to your life
I chose this  beautiful Tuscan agriturismo, and inspiring location for my retreat for three reasons: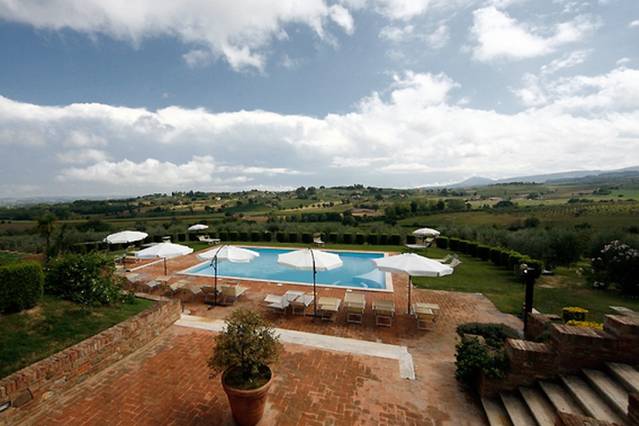 1. TO NURTURE YOUR PERSONAL VISION IN A RELAXING TRANQUIL SPACE WHERE YOU CAN "BE" .
To connect with your spirit and purpose of where you see you deliver the most value on this earth and plant the seeds of the next chapter in your life. To be in an environment energetically charged to help you create that vision - in  a state of calm and relaxation.
Only when we create that quiet space are we able to get in touch with our inner light. Our agriturismo will surround you with this peace better than a crowded hotel ever could.
To help you let go of limiting beliefs and anxiety you may be feeling, and still give you the time to relax and play in this breathtaking spiritual region.
My mission is to make sure you have the time to breathe, connect only when you're feeling it and enjoy the inspiring environment surrounding you, immersing yourself in la Dolce Vita during your stay.
2. TO GROUND YOU (LITERALLY) AND STEP INTO YOUR AUTHENTIC SELF 
Often times attending a retreat, participants find it difficult to unwind and take the time for themselves. When I first visited our agriturismo, I instinctively took off my sandals and walked the earth craving to get lost in their backyard vineyard. I share this photo with you to let you know that I too feel taking time off feels like a luxury. The truth is, we deserve and can afford to take these brief periods to feed and accelerate our bigger vision.
During our time together, we'll practice methods to slow down to find that balance of  work with down time and refueling the oil in our lamp so we have more light to shine.
Our time together will help you let go of the juggle in your life when you return home. What I love about this location is that is a perfect blend of authenticity with luxury.  Together with all of the amenities on site - Twelve breathtaking apartments, pool, spa, bikes, trails, horses, cooking classes and in the heart of the magnificent Montepulciano wine region - this is a safe space for you to let go and allow yourself to receive, nourishing your soul.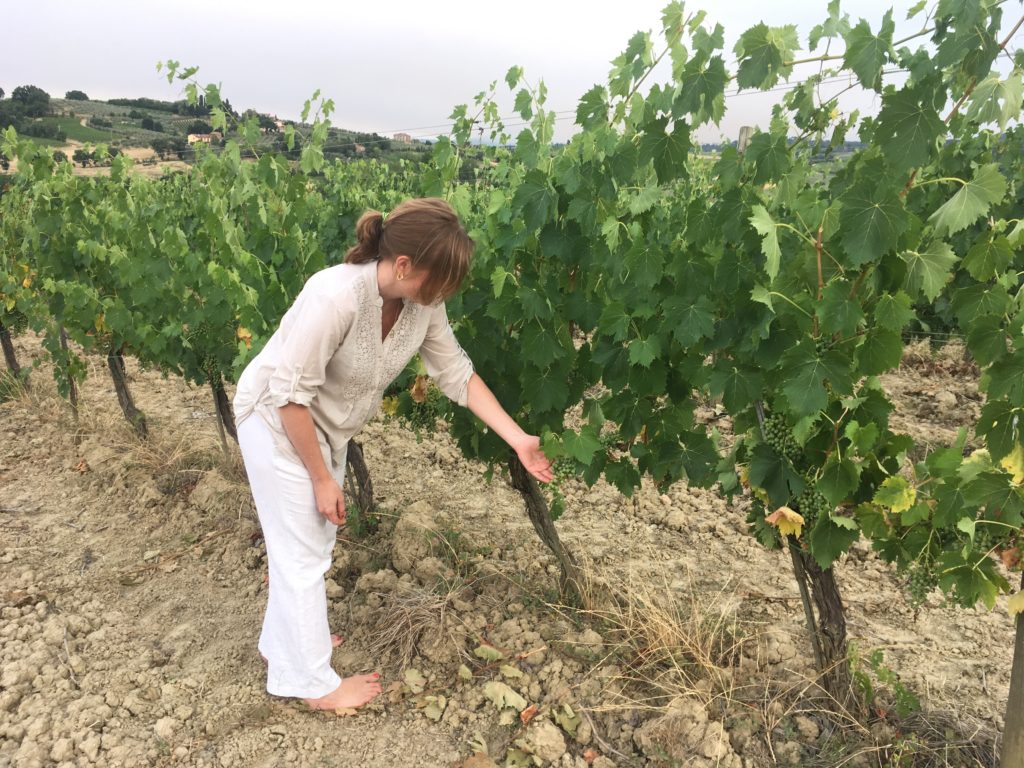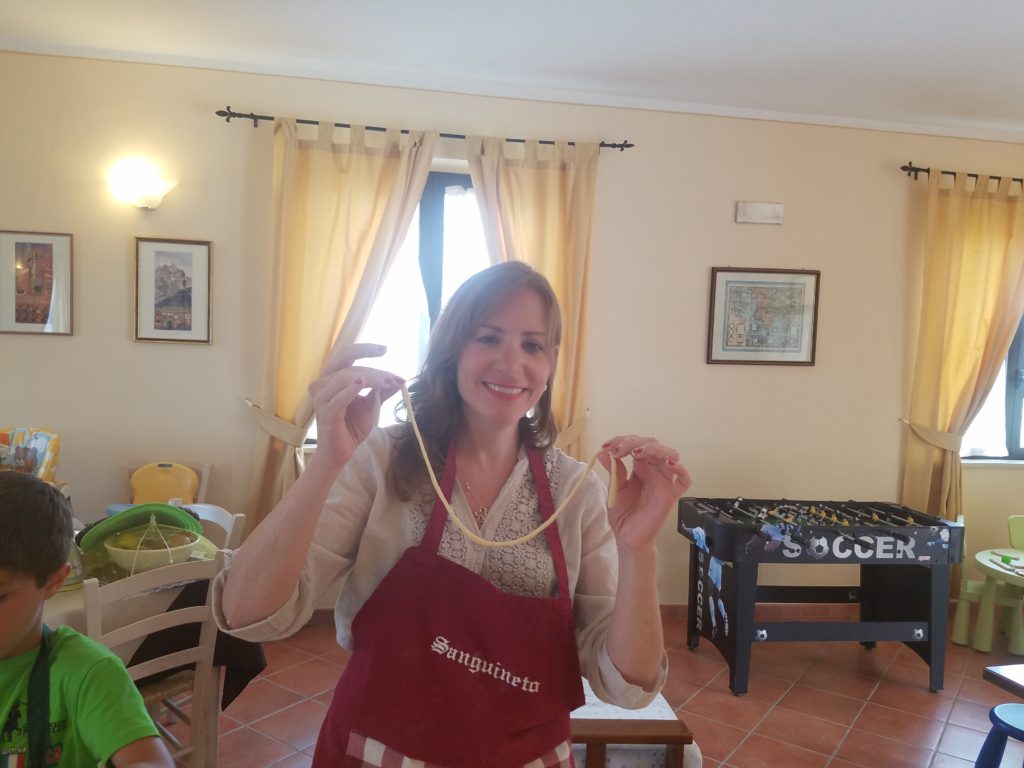 3. TO PLAY AND ENJOY NEW EXPERIENCES!
One of life's essentials is laughing and having FUN! When we feed our spirit with these experiences, we feel lighter and free to create what we want, versus feeling tied down to our routines which keep us stuck.
Choose to plan fun activities together and/or relax solo to reconnect with your inner voice.
Six days surrounded by positive like-minded energy.
And then there's me – Your Host:
Marisa Santoro, founder of In Our Shoes and Gutsy Leadership Academy.
I enjoyed a 20+ year successful Wall St. career in technology and resigned from an IT Executive lifestyle to do what I love - empowering professionals to create the life they imagine, which has been calling and no longer wait for permission to act.
Marisa Santoro is an American career leadership trainer and coach recognized as a leadership expert for the Gutsy Leadership method, making a paradigm shift of how to develop leaders of influence.  A national business columnist at American Business Journals, she empowers workplace professionals, practice owners, sales agents, physicians and small business owners to move into higher levels of leadership roles across corporate and the health care, real estate, education, music, writing and coaching industries.
Former IT Executive on Wall Street, Marisa has a 21+ year corporate career and is a recent honoree of the "Women of Influence" award by New York Business Journals given her years of heart-centered mentoring and leadership programs for women in the workplace. She is the creator of The Gutsy Leadership System TM and founder of In Our Shoes TM, a professional development training learning platform consisting of self-paced online courses and live training. She is also a Success Principles TM trainer of Jack Canfield's, teaching a life transformational step-by-step blueprint on how professionals can achieve success across all areas in their lives. These success principles are the same personal development principles which continues to help hundreds of thousands of people achieve success in their lives.
As a national career columnist for American Business Journals her articles are published in 43 cities across the US, cited expert for women's leadership in the Huffington Post and motivational speaker.
I don't believe in rejection or anything that feels like a No in your life.  I believe there are patterns of thoughts and desires you've had for a long time and through a simple self-awareness process, you give yourself permission to step into and ask for the YES every time, just like working a muscle you never knew you had. 
...and also believe in celebrating every a ha breakthrough moment we have together. Helping you shine your light, fully aligned to who you are and what has been calling you for quite some time.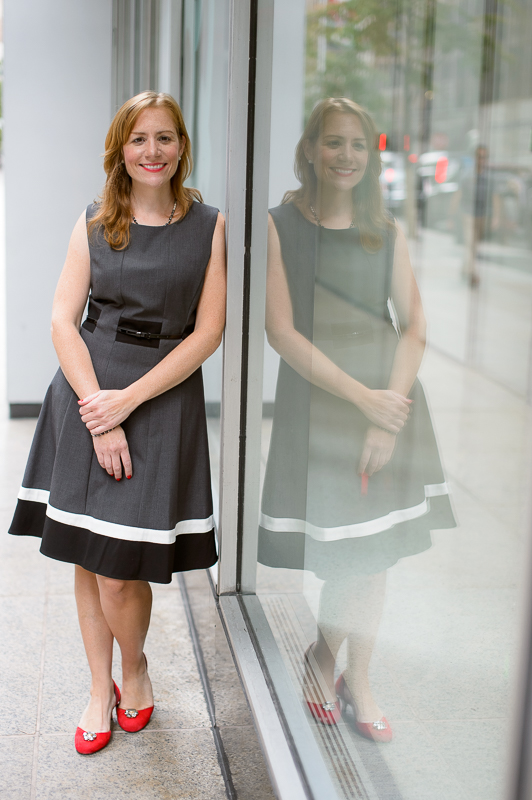 New Choices. New Results.
Saturday June 9 through  Friday June 15, 2018
You'll receive:
6 nights in the Tuscany countryside – getting guidance, advice and like-minded collaboration to support your goals. Single and Double occupancy available.
Daily meals featuring healthy and delicious food choices prepared onsite at the agriturismo. Two meals everyday coupled with music to inspire our creative gifts. Wine, soda, coffee, tea included.  Champagne toast on last evening. (Dinner on your arrival, breakfast on your departure.)
Airport Transportation flights arriving to and departing from Rome (FCO) international airport or Rome (CIA) international airport. Rome is the best convenient drive to our property which is located in the 

southern

 end of Tuscany. *There is one designated time for pick up and drop off*. If you miss the transfer, approximate cost to our retreat is 30 Euro traveling by train plus taxi from Rome airport.
Free Daily Entrance to relax and unwind at the Spa of the agriturismo (3pm to 8pm) or on-site Pool.
Free group taxi rides for

any

optional activity the group signs up for. Scroll down  to view all applicable excursions and meet Nico our Italian partner who can answer any questions.
Free entrance to Fonteverdi Thermal Spa.
A motivational welcome call  one week before the retreat begins to set your intention and put your energy out there opening up your goals to a wider audience.
Private coaching strategy session at our retreat, to develop your action plan.
Free Bike Rentals  to explore the region, from the property.
Access to hiking trails ,  from the property.
Special Event Dinner and Champagne toast on our last evening at our "Come as you Be" party - stepping into the person you intend to BE in the future.
Group discounts on some incredible excursions if you choose. We have partnered with an Italian company which speaks excellent English and understands my goals for you to kick back relax and still enjoy some local trips at a reduced rate.
Tools designed to help you create your compelling new vision and take home a thought-out action plan to put into play immediately.  Implement when you return and take not just any action, GUTSY action. Thoughts are things. Change your thoughts, change your life. 90% of your success is MINDSET.
An Accountability Follow-up "Ask Marisa" private call to further support you once you return home.
What's Not Included:
Airfare
Optional Excursions:
Wine Tour in  Montepulciano, Dinner in Vineyard. Dinner at Winery.  E-Bike Tour, Pastry making course, Tuscan cooking  course. Pienza guided tour.
If you would like to pay by check please  mail your deposit to reserve your spot:
In Our Shoes
PO Box 240
Matawan, NJ 07747
Questions? Reach out info@inrshoes.com +1.844.626.3410
Ready to save your spot, but need a shorter stay? Reach out to create an itinerary which works for your schedule.
.
Cancellation Fees Schedule:
Between Dec. 1st and before April 1st: no refund unless someone fills your spot, minus $50 admin fee (potential full refund, only if your spot fills).
After April 1st:
no refunds
.
.
Sending in your payment assumes you have read and understand the refund policy. 
Ci vediamo presto!
Saturday June 9 through  Friday June 15, 2018
Take a non-negotiable approach to doing just one thing: lead 

without

permission.

Gutsy Leadership - it's a mindset thing.
An opportunity to double your impact and enjoy more balance for joy and love in your life.
What we uncover together in Tuscany will help you make the changes you need to live a life filled with passion, enthusiasm, and a deeper sense of accomplishment.
If you want to transition from your career where you've experienced burn out...
If you're planning to pursue a lifestyle which supports you before retirement...
If you're craving more free time to spend with your family...
If you're serious about wanting to make a big change in your life, whether it's creating more balance, more free time, better relationships, more money, improved health or anything else…
Contact
info@inrshoes.com
+1.844.626.3410
What is an  agriturismo???
Many travelers aren't exactly sure what Italians mean by an agriturismo. It's about  experiencing rural Italian life and a slower-paced holiday. The idea is that you rent a suite in a home in the countryside where you can enjoy unparalleled views and exceptional food (usually at least one meal a day is included), and where your most difficult task each day will be deciding how to spend your time. Many agriturismi (the plural of agriturismo) will offer guests such things as cooking classes, horseback riding, guided tours of the area or wine tastings. Of course, if you're on vacation to relax, you can also choose none of the above and just relax on the terrace with a good book.
Upon placing your deposit for the retreat, we recommend you reserve any optional excursions shown below which you are interested in, to secure group rate, all transportation is included!  Please reserve your optional excursions below directly with booking@valdichianaliving.it and mention "Marisa Santoro  retreat" in the subject line to secure reduced pricing.  Nico or Maria will assist you right away!
OPTIONAL EXCURSIONS
Guided Tour of a winery and of Montepulciano's countryside. 29 euros
Dinner at the winery, 38 euros
Pastry Making Course, 79 euros
Guided Tour of Pienza, 29 euros
Dinner in the vineyard, 70 euros
Cooking Class at Lunch, 69 euros
Wine Tour E-Bike, 99 euros
Explore the Local Town 5 Minutes away
Acquaviva di Montepulciano, is the little town close to our retreat property, where you can find all that you need:  pharmacy, clothing shops, ATM and banking. The closest hospital is 10 minutes away. Town visits can be arranged by taxi.
Meet Nico! (listen to Nico's audio greeting below)  Any questions about optional excursions should be directed to our partner Nico Bartalini. He speaks excellent English and is lovely to work with! Please e-mail him  at booking@valdichianaliving.it or arrange up a SKYPE call.