How Sarah became accountable…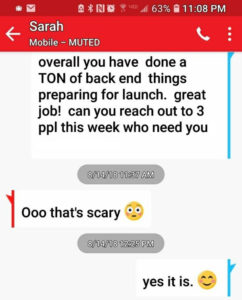 Hi,
Did you have a chance to listen to the Gutsy Leadership PODCAST I sent recently which I held with Wall Street Director Annette Stewart? This is a content-rich, power-hour RECORDING to inspire you to pull back the reigns of your career and make some gutsy moves to see some new RESULTS. Remember, it's not only what you know, it's about what you DELIVER for others, what you're known for as a professional expert.
Also, we have just opened up a new training class starting in a few weeks held in-person in the NYC area. Take a half-day on a Friday, September 28th and we will hit the ground running moving some walls. I'm sending you back with lunch.
Above, is a text conversation I had with Sarah, whom I have been holding accountable for several months now. You see Sarah has been steadily unleashing in her career and as a gutsy challenge before I left for holiday, I asked her to authentically self-promote her value in writing, getting clear on her RESULTS.
When I returned, she totally rocked it, but then she stopped. Was she waiting for me to get back from holiday? No. Was she waiting for a sign from the universe? No. So why did she stop?
She stopped because the next step was putting herself out there and sharing those RESULTS and (let's face it) she had to start ASKING. You see every Sunday, I am on your phone gently nudging you into ACTION along with motivational e-mails you shall lovingly expect from me. : )   I can intuitively pick up when someone is holding themselves back. It didn't add up. I know she spent hours and hours doing the work (which she loved). Why stop the momentum? If she doesn't make those phone calls, no one will know she has all this experience! Not to mention that there's a vortex of energy around you, when you build up that high-vibrating enthusiasm. It's just not the same even hours later. The universe has your back when you're in that space where your spirit is cheering you on (as a gutsy whisper) to keep going!
As humans however, we'll come up with all of the things we have to do first before we take action.  I have to finish my certification first.  I have to wait until 'so and so' gets back to me or I have to wait for this project to finish to make sure I can go bigger.
I recognize these and totally get it, but it's time put these reasons to bed. You will never be 100% ready.  It's against the laws of our planet. Our world is constantly expanding and so must you. It's important to go at your own pace but when you get that enthusiastic force field of energy where you feel pure boundless joy, then you have to press GO and act on things that will give you more of that feeling because you are in that high-vibrating state of attraction. In other words, you have to act IN SPITE OF what's in front of you. You have to act IN SPITE OF the ego flagging you down to stop. It means well, it's job is to protect you but it goes too far.
ABUNDANCE FLOWS WHERE ENERGY GOES 
This week when you feel good, say I want more of that and then follow through with whatever gutsy move that feels natural and like the right next step, just be aware of those warning signs and whether they are coming up from fear or have true merit.  I'm talking small steps, not cliff-side leaps. In fact, that's what Gutsy Leadership is –  taking very low-risk steps over time which build up your confidence and your accomplishments. You don't have to take years for the things that you want to happen.
I asked Sarah to reach out to 3 people right away and (as you can see above)  that is a scary thing. We can all relate. But let me ask you, who else is going to advocate for, except you? This isn't something you can outsource. If you need a new opportunity, resource or contact, then you have to raise your hand and ask, find out who can help. She quickly shifted her energy (we cover lots of energy exercises to clear you when you're stuck) and moved into ASKING her network given the script I sent her which she tweaked for her own voice. Ironically, yet really all divinely aligned, a few hours later I was speaking to someone who would be an excellent contact for Sarah. It was too good to be true. So I made introductions and now she is off getting visible plus making those 3 phone calls.  That alignment happened because she self-qualified herself and gave herself the YES. Once you answer the call first, that's when beautiful things happen. This is an inside-out approach to designing the life you want. Once you give that nod to the YES, "You does deserve happiness and success." that's when you are fully supported to ensure that you do. Just like those inspiring Jeep Wrangler tire covers remind us why yes, LIFE IS GOOD.
Will I be working with you too? In private coaching, I roll up my sleeves and we're getting clear on exactly what you do for others that makes you feel purposeful and ultimately fulfilled in your career (including making the time for yourself and your family).
Here's what you receive in private coaching:
Gutsy Strategy Planning Session
Bi-Monthly Coaching with Recordings (we will laugh, we will cry, we will keep moving!)
Weekly Accountability and Feedback
Anxiety and Phobia Cure exercises
Step-by-Step Self-Paced Video Training
Unlimited E-mail support between calls
Emergency time-sensitive phone calls
Meeting, Interview, Resume, Presentation, Sales sheet Preparation
LinkedIn Profile Review and Recommendation
Weekly Assignments
Worksheets, Checklists, Scripts (yes, I will tell you exactly what to say and write, you tweak later)
Option to Freeze and Resume Coaching (because life happens)
and so much more including mindset shifts on how you see yourself so you can lock in exactly what you have the potential to create.
Reach out, I'm ready to ROLL up my sleeves to get started. Packages to fit every budget. Reach out at info@inrshoes.com so we are sure to catch your note. Should private coaching not be something you are ready for, then ask about our Leadership EXPERT coaching program, where you still receive the exact same training content which you need, but at your own-pace. Isn't it great to have options? 🙂
p.s. Save your seat in NYC on September 28th 9 am to 12 noon.
p.s. Listen to the Gutsy Career Podcast I held  with Wall Street Director Annette Stewart. 
Enjoy this gutsy newsletter? share it with friends. Have them sign up here.
With guts, grace and influence,