5 Steps to Silencing your Inner Crow in an Interview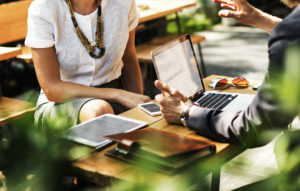 I work for a financial services firm where I've been for the last five years. Previously, I worked only for non-profits. I'm now getting back into the swing of interviewing again and don't feel I am doing a good job in relaying my skillsets. Although I am preparing for these roles, when I am asked a question, my responses tend to be all over the place.I don't feel I am helping the interviewer understand what I know and am really good at. A constant inner crow feeds my limiting beliefs around whether I am good enough and have enough value to bring to another organization.
Here's a proven step-by-step strategy you can use to prepare for any question thrown your way where you will no longer feel off-guard and energetically raise your confidence level during the interview.
Take that job description and pull it apart, highlighting all of the areas which you feel fully aligned to given your credentials – whether due to your experience, education or skillsets. You want to highlight only what you intuitively feel you have ROCK-SOLID confidence around and can handle.
Take all of the items highlighted and roll them up into a single area of your core expertise and begin grouping these responsibilities into big chunks. For example, if five items all roll up to your Compliance and Auditing expertise put them inside that category.Once complete, you should be left with a few major "strength" themes, which supportin your mind, why you are qualified for the role. Consider these categoriesyour news headlines which you will kick into gear during the interview with storytelling described in the next step.
Take your "strength" themes and create stories around each of them. Your stories shouldn't require memorization. Simply focus on a few themes (five at most) so that when you go in there you will be better able to speak to the theme through a story, and not get tripped upon the question.Somewhere their question should fit into one of your key themes. Now you can cherry pick a story you have in your hip pocket, based on that question. Should they throw you a question you aren't expecting, take a pregnant pause (this is a few seconds of silence which should feel uncomfortable and buy you time) and calmly go back to one of your your themes again.
When sharing a story, be sure not to give them the textbook answer "Here's what I would do in that situation…". Instead you can say: "Let me give you a perfect example of how I handled that based on where I was at <insert current company you work for>just last year doing <insert some responsibilities you had>. This may not be the exact scenario they posed in their question – that's ok. Your job is to tie it back, because it fits in with the themes have already identified as your core competencies.
Lastly, set the intention with positive affirmations. These are self-empowering statements you repeat a few times a day to lock-in a confident mindset, such as
I am responding GREAT to any question asked of me.
I am confidently sharing a personal story when speaking to my experience.
I am happy and excited to meet <insert interviewer's name>.
You have the skills, know-how and expertise or you wouldn't be in the room. Sometimes we can struggle with "perfection paralysis". If we don't have everything figured out and all of our answers nailed down, we will freeze, rejecting ourselves in advance before anyone else has had the chance to.This is energy others will feel. Ninety percent of your success is based on how you show up in that room, not necessarily the words which you say. In your next interview, focus on mindset and go in there with some major themes wrapped around some stories that you are proud of which will raise your energy levels and enthusiasm. Keep it naturally authentically you, don't hold yourself back.  Let them really see who you are and you will find your voice everytime. Also, give yourself permission to learn from past interviews so you can strengthen your body as it walks through the process again – muscle memory must and will kick in. Make a mindset shift about where you are and where you want to be in three to six months from now. After every interview you are easing back into the rhythm and flow, while also learning what the market demand is for your skillsets and in your industry. This is a discovery process as well where you have the opportunity to interview them as well. Lastly, before you leave the room be sure to leave them with the following question which should put you in their short-list of candidates.
If we were to fast-forward twelve months from now, what would have to happen for me to make this role successful?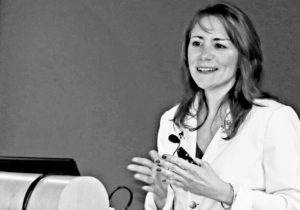 Marisa Santoro is a former IT Executive on Wall Street, leadership expert and founder of www.InRShoes.com and Gutsy LeadershipTM Academy –  a professional development training and coaching practice empowering and motivating workplace professionals and small business owners to accelerate in their careers with a success-growth mindset and proven leadership blueprint based on The Gutsy Leadership SystemTM.
Ready to put some skin in the game and learn how to be a leader of influence in your industry serving your market? Take the online course and learn the step-by-step system here.