What if you started leading with your gut in business, waved away fear of failure and created powerful pipeline that led to a bigger game?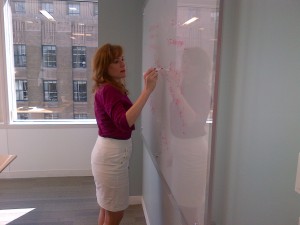 Successful Women know their Worth.
Flag your value-add. Define and measure your "career currency" / bench strengths.
Create your signature speech and elevator pitch, everywhere you go.
Slip into Opportunist shoes; Finding your angle and +1 (plus one) in every situation.
Lock in your consistent 'voice' in your verbal, writing, body language statements.
When you Own the Part, you Get the Part
Speaking and Working any Room.
How to make yourself memorable in the crowd.
Project a powerful image by effective presentation and delivery of your message.
Master the simple cool and confident protocol of speaking to an audience which success-minded professionals subscribe to.
Tap into your innate confidence when speaking up in meetings or at events.
Embrace the dynamics of cultural and gender differences in order to make them your best customers.
Grow your Professional Village
Successful Women Collect Like-Minded People
Engaging others to be your best customers, sharing your purpose.
Scouting for sponsorship and mentors: internally, externally and virtually.
Network-it with subtlety. Proven techniques to form powerful relationships given your expertise.
Navigate key impromptu conversations using effective dialogue and key phrases.
Slay your Self-Doubt.
• Forget perfect, how to create and discover dormant opportunities. Pssssst! Men don't wait to get 'picked'; they step up even when not ready.
• Shush the stories that hold you back and take on your inner voice with emotional intelligence.
• Address your worst fears in business and kick them to the curb.
• Recognizing the dynamics of working with men, competitive women and cultural differences.
Frame and Mold your Leadership Role
Successful Women keep their eye on the end game.
• Cross over from trusted worker bee to strategic big picture thinker.
• Mind Map and frame your Leadership Strategy.
• Pitch your ideas and share your purpose at work authentically.
• Hone in on the influential soft skills to create powerful synergies.
Negotiation
Successful women stand ready to fire up 'Plan B'.
•Cutting Deals that make for a win-win.
•Learn to turn the word 'No' into 'Not right now' in business.
•Think creatively, put yourself in the shoes of the person on the other side of the table.
•Getting buy-in when consistently hitting the wall.
Mastering the Work Mom Juggle
When the rubber hits the road: an opportunity to shine without taking a step back in your career.
• Compartmentalize your time so you are no longer "half there" for work & family commitments.
• Establishing repeatable procedures to put on auto-pilot saving your energy spent.
• Recognizing your breadwinner role and communicating financial expectations with your partner.
• Picking your spots at work to negotiate the flex-time you need.
• Maintaining a consistent image and perception of your continued commitment at work.
Raising your Rank as an IT Professional
In Our Shoes offers many areas of proven tactical approaches towards advancing yourself as a technology professional. Let us help you develop and effectively deliver your  IT Strategic, Functional or Systems roadmap at your firm.
announces In Our Shoes seminars to their alums!
More