Join a Gutsy Leader Focus Group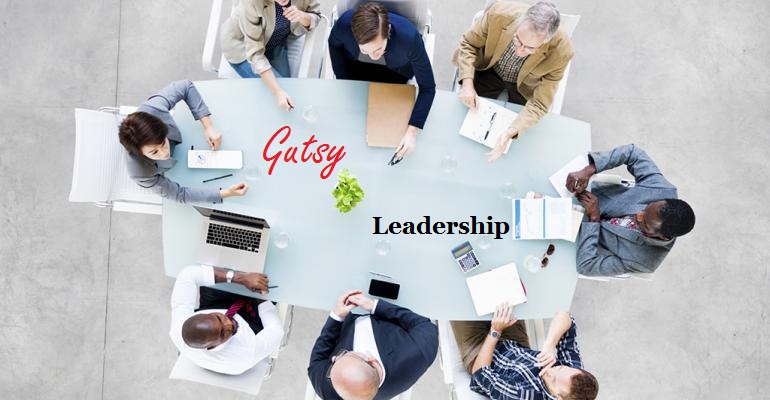 We are  excited to announce an opportunity to collaborate on a new project. Beginning next month, we  will launch a Gutsy Leadership focus group or what I prefer to call a gutsy meeting of the minds.
What is a focus group? 
This is a private group of professionals who will lend their eyes, mind and heart to a project based on a growing spiritual and proven success-growth process to developing leaders of influence. By expert leaders we mean YOU. Those working inside organizations as well as running their own businesses. The goal of this group is to collaborate on new concepts and topics with the like-minded energy of our community, already familiar with our work. Yes, this means you!
Is there a fee to join?
There is no fee to participate and we expect spots will go quickly. This is a volunteer opportunity which will not only help you explore the direction of your own career but speak up and voice your opinion on topics that you feel have either been helpful to you personally and/or strike a chord to helping professionals grow in their value. Although many of my peers often charge people to participate because of the inevitable value they will receive, I believe that those willing to contribute their ideas and time to this platform is just as valuable, making it a win-win for all.
How would I get involved? How would I contribute? 
Your help is invaluable in this process. By participating in this focus group, you receive periodic content for review and to survey and respond through e-mail. You would also be invited to motivational private conference calls at a later date. The feedback you give is an informal discussion of the material sent and opening up a conversation to contribute your personal opinions, stories, even challenges of what you feel should be given higher priority. You not only receive invaluable content to review and discuss but also a referral from us at anytime as a member of a global leadership committee.
How will it benefit me? 
We value your opinion and respect your time. This focus group is an excellent opportunity if you see yourself contributing to a bigger purpose, are looking for inspiration and motivation in your own career, exploring your next chapter / a new purpose and are potentially considering a training or coaching career. Note, the e-mail exchange and occasional calls are not coaching sessions, however through our discussions of material and review you will inevitably take away a ton of value to apply to your own life. Think of this focus group as a roundtable of influencers.
What is the commitment? 
Primarily your commitment is responding online in the form of  e-mail with your opinion and feedback on the content we send to you weekly. If there is anything you contribute which I would like to discuss further with you to drill-down on, you would try to be available to discuss by phone at a mutually convenient time. We ask if you can commit to getting back to us within 7 to 10 days so we have ample time to collect everyone's responses and drive future material sent.
When we do hold conference calls they would be held in the afternoon to accommodate those of you in Europe or on the West coast (to be determined). If you are unable to make a call, that's ok. We envision most of our work together will be online given everyone's travel and work schedule. It would be ideal if you could dial-in, however with your feedback, we see you as an invaluable member of this group.
This invitation is on a first-come, first-serve basis. So if this feels right and you'd like to be part of a bigger purpose and part of an initiative that is a paradigm shift away from traditional leadership and career growth development, focused on spirit, intuition and mindset shifts driving results and change – then this would be an excellent opportunity for you to join.
More background and detailed information will be sent on this project we collaborate on together, but all things said, I see this being an inspiring, creative and supportive forum of like-minded energy and a meeting of the minds if you will. This will be open for a short period of time as we expect spots to fill up quickly.
If you are feeling it in your gut and would like to join this focus group, click here to get started.
big hug and thank you for taking the time. I know all too well how precious time is, I created a whole course around it, called Fierce Time Management.
Enjoy the rest of your week and weekend,

Ready to make a gutsy life changing transformation? Join  me at the thermal springs at Fonteverde Spa, with my compliments. Embrace la Dolce Vita.