Professional Training. Live Workshop.
Developing Experts of Influence.
Friday, February 16 in the Boardroom.
Friday, February 23rd
12 noon to 2 pm EST.
Online Training. International Conference Lines sent.
Two training sessions held every 3rd Friday of the month in Midtown Manhattan.
Led by Leadership trainer and career coach Marisa Santoro,  Former IT Executive on Wall Street. "Women of Influence" honoree by American Business Journals and Bizwomen.com. Founder of  Gutsy Leadership Academy and In Our Shoes - a global professional development training platform. Located at:
Online Workshop. International conference lines sent.
Training Workshop held 12 noon to 2 pm EST.
Self-Promote with Ease and Authenticity to advance your role or
Start your Side Hustle.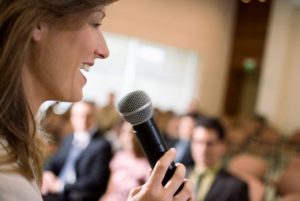 You struggle with "selling yourself" authentically and your story tending to fall short in recognizing your professional strengths and influential soft skills. You recognize your ideas aren't always considered when communicating with colleagues, management, your team/staff, patients or trainees. In this course introduction, you will gain clarity on what you bring to the table as a professional expert. Before you can talk the talk and share your knowledge, whether it be in a small meeting room or speaking in a larger venue, you will step back and recognize for yourself what you have accomplished given your track record and what it is that you DO brilliantly which attracts others to enjoy working with you recognizing your professional expertise.
Be comfortably confident in all of your communication, rooted in what you know given your unique personality and experience which you may not be owning right now. This course lays the foundation for showcasing your value as a professional expert who delivers on specific recognizable results, thereby attracting others to you, where you are being yourself, instead of feeling like you are selling yourself.
Professionals aiming to move into higher leadership roles or start their side-hustle leaning into transitioning into a new career.
Get the full online course with lifetime access:  
Only $149

.
If you would like to register by phone, or have questions, please
Contact us at +1.844.626.3410 direct.
or email us at info@InRShoes.com
Training classes to support professionals in the workplace (at all levels), small business owners and emerging entrepreneurs.
Material handed out to clarify your objectives (what you want to walk away with), with clear action items to implement immediately afterwards. Full recordings sent following workshop. Lifetime access to presentation.
To learn  of our mission - check out our business site.
Speak soon,

Please reach out with any questions or drop a line to learn more.
info@inrshoes.com / 844.626.3410
How do these Business Trainings work?

Marisa Santoro leads 2-hour training workshops in an intimate group setting held online and in  boardrooms in local cities. An intentional mix of mindset and business guidance provided, harnessing the power of like-minded energy.

Can I get a refund upon request?

Cancellations accepted up to 14 days or earlier before the next month's designated meeting. Due to room reservation booking and to plan accordingly, we cannot accept cancellations within 14 days of class.