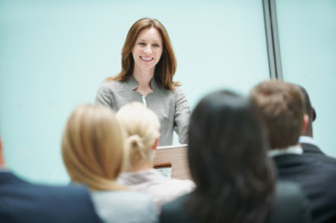 "I want to move ahead in my career, communicate with confidence when speaking, writing e-mails or delivering a presentation with a rock-solid focus in meetings. I want to attract a new opportunity / role based on my expertise and track record demonstrating my work knowledge."

Because deep down you know, there are opportunities with your name written all over it and you are ready to get visible and own the field you are in.
Who you are
You are smart and motivated and have set your mind to being a more confident in your communication with a more challenging leadership role. You want to be more visible and paid what you're worth now, because your current income level is based on what you were worth then before all your experience now. You have the openness, faith and "no-excuses" attitude to raise your game now. You want to improve your communication skills by feeling relaxed when attending or running meetings, speaking to clients, peers or direct reports or delegating. The dynamic of working in an aggressive or male-dominated environment or foreign culture, may play a key role in how comfortable you feel when in the room.
What your issues tend to be
You feel stuck at times, lacking confidence in your communication, unsure if you're 100% qualified to take the leap into something bigger from where you are today. Deep down, you are not maximizing your potential and struggle with self-sabotaging thoughts questioning whether your level of expertise is meaty enough for today's job market. You want to advance to a new level, but need more focus and discipline on where you should be headed and step-by-step guidance to get there. You don't always feel like you fit in when speaking and are unsure if you are doing a good job in communicating your ideas and whether they are accepted. You worry about how you are perceived. When speaking in front of a roomful of people or in meetings you tend to panic and find it difficult to concentrate on what you have to say.
What you need most right now
You need a strategy and action plan, leveraging your knowledge, experience and lessons learned which you are not seeing right now. Your primary focus needs to be on recognizing all of your unique bench strengths that you bring to the table and practicing self-promotion techniques which will attract others to want to learn more about YOU. You need to make a mindset shift about how you see yourself. You need support with difficult conversations and critical feedback to build on your strengths. You want to walk into any room and demonstrate your work knowledge, while still enjoying the camaraderie of your peers, direct reports or clients, comfortably speaking when presenting, running meetings, delegating or simply brainstorming. Then it's all about having a tactical toolkit in your hip pocket, maintaining an authentic internal and external dialogue asking for what you need, pitching and communicating your ideas assertively with your unique feminine flair. You need to pull yourself out of "worker bee" mode and be a big picture thinker who is BE not DO. You need a pipeline to new opportunities; a tribe you can continually rely on for support. Then it's all about consistently moving to higher-levels in your career.
If this is who you are and this Gutsy Leadership Program is for you, just send us an e-mail: Info@InRShoes.com or call toll free at 844.626.3410 to discuss. Learn more about the Gutsy Leadership System.

Private 1-on-1 Sessions
Mindset + Career Coaching (International conference lines provided)
Strategy Breakthrough Session.
The leadership program proven to advance you to the next level in your career or business, guiding on how to get outside your comfort zone, attract opportunities to you instead of pushing so hard, get unstuck, get visible leading in areas where you feel confident in all communication channels led with the inner guidance of your gut instinct  and unique expertise.
Does it work? It sure does.
This is a unique leadership approach to changing your mindset about how you see yourself in your career and business and applying the tactical confidence tools and gutsy strategies customized to you, so you will attract opportunities to you. (See Client Testimonials). Please note: to see results, students are totally committed to taking action and have the resources – time, energy and drive – to carry them through. It pays off  in much less time than they would have on their own and are "Raving Fans". Learn more on what makes this education for professional women unique.