A new podcast and gutsy success formula!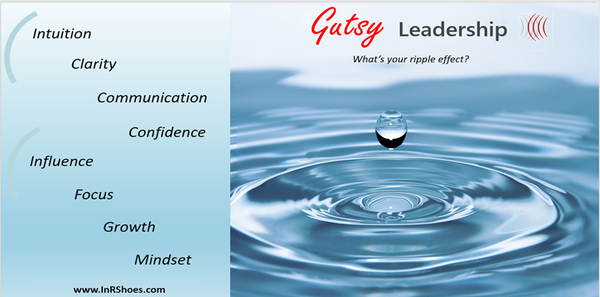 In Our Shoes News:
We have a new gutsy podcast / fireside chat for you today with someone I am pleased to introduce you to – Antonio Santiago. Antonio is trained in the same success principles we bring here to every training and coaching program. This new podcast speaks to the other side of Gutsy Leadership, the first being the proven business leadership tools and strategies to design and navigate a career you love and on your terms.
The other half of Gutsy Leadership speaks to the necessary mindset, intuition and proven success principles which will allow you to create ANY breakthrough goal you have in two years or less. On average most do it in 9 months, depending on where they are, how well they have cleared the clutter in their environment and how far a stretch their goal is perceived to be in their mind. If you don't feel it as you know, no one else will either. This is reprogramming your belief system and childhood patterns to reach your desires in any area – career, health, finance, lifestyle, you name it.
Did you listen to the podcast sent last month which I held with IT Director Annette Stewart? Listen here.
This is a content-rich, power-hour podcast where Antonio and I dig in and speak to these principles which have been transforming thousands of lives globally. So grab a cup of tea or glass of wine and sit back with us and secure some quiet time if you can when you listen in. We're walking you through a process that is truly life-changing, once you answer the call. You see many of us walking around waiting to be qualified for that next opportunity. But that's not how life works. The universe/God/your higher spirit, kicks in once you self-qualify yourself first, recognizing that your unique gifts and skills were not random. They were placed there deliberately for you to CREATE and be in a state of joy. Enjoy listening to his special podcast, it will change how you look at your relationships, health, finances – any area you want to see new results in.
Are you joining me next Friday, 9/28 in Jersey City, NJ? This is a training, coaching and collaboration experience in the NYC area. Take a half-day off on Friday, September 28th to get clear on what would have to happen to own your authority as a leader of influence. *I'm sending you back with lunch.*
In the news, if you have caught all the buzz around Serena Williams recently, I'd like to speak to her for a moment because it truly is a shining example of why we created an entire course called Speaking without Apology , also contained in the the full Gutsy Leadership coaching curriculum. We saw worldwide opinions split in half last week when Serena pushed back on Carlos Ramos, the seated umpire at the US Open. Some said she should be praised for her gutsy moves, others said she was a cry baby. I'm not a tennis fan, although I did have the pleasure of meeting the lovely Serena at a women's leadership event a few years ago.   She was penalized for what appeared like cheating by looking to her coach for guidance, however according to Serena, she wasn't cheating and being penalized for something male players never receive a violation for. Serena standing on principle, stood up, stopped the match, and spoke out claiming she was not cheating. She spoke without apology about what she believed in, and demanded an apology from the umpire.
Is this any different from you, if you are told you dropped the ball at work, or are criticized for something unfairly? Is this any different if someone of authority disagrees with you and asks you not to say or do something because it puts them in a dimmed light under your glow? Is this not going gutsy, acting IN SPITE OF,  where all eyes are centered on you in the room when someone pushes back, questioning your ideas? From a gutsy leadership point of view, Serena acted on what she believed, spoke without apology (while asking for an apology) because she felt as a woman she was held to a different bar than her male counterparts. She also stepped into fear of global judgement and rejection at a televised event which her career could have been impacted from.
Your daily reminder: SW SW SW
Some will reject you. Some won't. So what?
Keep going and moving your feet. Whenever you are faced with that GO or NO GO decision, ask yourself, 'Am I acting in faith or fear?'
Here's the risk to NOT speaking up – it's called suppression and the same event will eventually come right around again, manifested as a different circumstance if you allow it to, by not speaking up.  I'm talking quiet power, not shouting from the rooftop type reactive energy. I know, you know what I mean.
You will find your gutsy freedom, every time  when you act IN SPITE OF what's in front of you, using your sixth sense versus the other five focused only on what's physically present. Your intuition is barely a whisper when it encourages you to raise your hand, ask the question (detached from the answer), agree to disagree, negotiate a better arrangement. That's freedom you can feel and as a happy side effect, others will too – when you speak without apology.
Sign up for the online course Speaking without Apology to immediately change your communication style with your clients, management, peers, patients and prospects who are contracted to work with you, because they need your expertise! Learn how subtle tweaks in your speech can springboard you from diluting your value to spotlighting your assets. Receive guidance on how to speak with confidence, intention and clarity, positively influencing how others respond to you.
As a gutsy bonus, for every online course investment, you receive a full credit towards any private coaching package you enroll in at any time. Yes,that means you are really getting any course for free. I like to reward those who put some skin in the game, making that gutsy investment in themselves.  : )
Have a beautiful weekend. Btw, today is World Gratitude Day. A gutsy mantra which we live by daily here called B.I.G.  = Be In Gratitude.
p.s. Save your seat on September 28th 9 am to 12 noon.
Enjoy this gutsy newsletter? share it with friends. Have them sign up here.
Ready to create a gutsy breakthrough? Apply below!
With guts, grace and influence,