Ask for the yes + a free gift…
If you haven't experienced Gutsy Leadership living yet, I cordially invite you to preview an online course – as my gift to you. But be sure to watch this video first, I  share how to get started and also give you some gutsy advice on how to stay the course (no pun intended!) and keep moving your feet no matter what you see in front you.  That's right, no matter what you see in front of you. That's when we are being called to step into our fears and lead from intuition, which as we know will never steer us wrong.
In my last note, I talked about what to do when you hear the word No.  Today I'm inviting you to expect the yes – every time.
It may sound counter intuitive, but receiving what you want and getting that yes, requires going in there with what I tell my students High intention, Low attachment. That is, getting really clear on one or two things which you want to walk away with and then letting go with emotional detachment.
This is a numbers game. The law of probability tells us, the more people you ask for the things which you want, the more likely you will find someone to help you. There is so much beauty and confidence in this fact, which will build your momentum to keep asking and implementing what I wrote last week a la No = Next!
May I ask you, how many times will you follow up with someone after you haven't heard back from them? One of the the biggest mistakes I've seen which stops people from receiving their YES is when they assume radio silence means no.  That person may have got pulled away or even forgot. It happens to all of us! If you feel pretty strongly that that meeting or conversation will support you, then go back in there, take 100% responsibility and make it happen. When you eventually do get their attention ask them if you have their permission to follow up again. This way it doesn't feel so ickky to call or email again.  Plus, you can move on if they say no. Who cares?! Some will, Some won't, So what???
Be sure to check out that free online course if you are thinking about joining me at Gutsy Leadership Academy. There's also the library of all courses which you can choose from, including the Gutsy Career Breakthrough – the entire program and substantial savings combining every course with monthly coaching.  Ideal when you're ready to make the commitment.
Last but not least, this is the month of self-love, is it not? I like to live my live in 30-day experiments. Each night for 30 days, write down one thing that you appreciated about that day.  What did you do each day that you wish to celebrate?  Big or small, write it down. Energetically writing down these little moments, will raise your confidence and joy.  Sharing them with someone exponentially attracts more inspiring people to you. Believing these things are true opens up doors you never knew were possible.
As always big squeeze coming your way.
With guts and grace, yours…

  XO
Join me in the Tuscan thermal springs at Fonteverde Spa, with my compliments. Embrace la Dolce Vita.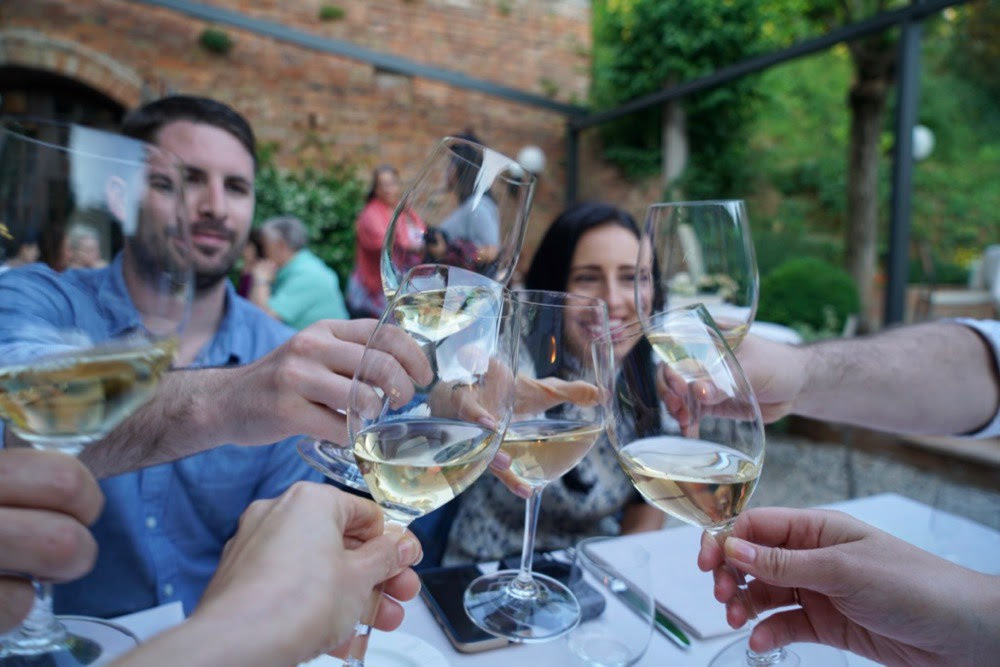 >>Joining us in Tuscany, Italy? June 2018 Retreat!
>>Private Support with Online Learning to fit your schedule. Learn more.
Did you know that as a subscriber of the In Our Shoes newsletter, you qualify to receive up to $200 in loyalty savings on training and coaching products? (exchange rates applied).
E-Mail: Info@InRShoes.com to learn more. Discounted savings *not* published online. 
Would you like to invite a Gutsy Leadership program into your organization? Looking for an external resource to keep you on track  with your career goals?
Info@InRShoes.com


"How successful you are, is based on how included you make people feel in the room. It's our core human need for love and acceptance." – Marisa Santoro, founder of www.inrshoes.com and Gutsy Leadership Academy.