Holding others accountable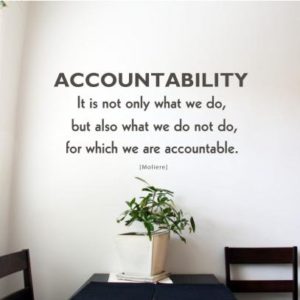 I hear many in our village are ready to jump back into interviewing soon. If that sounds like you as well, you'll want to check out the HOW-TO leadership articles published here. I recommend pulling down the one titled "SILENCING your Inner Crow during the interview". I'm not the kind of coach who just gives feel-good advice. Everything I teach and coach on, is step-by-step with practical advice you can hit the ground running with immediately.
As a gutsy reminder, you don't get up in the morning to blend in with everyone else. Look for those triggers when you are feeling any anxiety, overwhelm or some level of fear. That's your spirit screaming for your attention to step right in and act IN SPITE OF, leading from your gut. It will never steer you wrong.
Today I want to talk to you about accountability. You may already know that keeping to your commitments is core to your success and what I as your coach will lovingly hold you accountable to. If you say for example, "I want to create my first professional speech by the end of the year Marisa, because speaking is one of my gutsy breakthrough goals." Then make no mistake, I'm rolling up my sleeves to keep you focused on just that even if we've targeted it for 3 months from now. But what if you say, "Marisa, my role has expanded. I'm just trying to get through the day to keep up with my responsibilities so that I continue to be perceived as a key player". Then let me ask you – who is supporting you to get through those days of overwhelm? Something has to be offloaded or how will you survive? I'm assuming just as your leadership or clients are relying on you, you too are relying on others. You either have a team, or a few good wing men and wing women whom you rely on to be successful.
But what if your support system caves in? That is, the people you are relying on, are not holding the line with their responsibilities, seem disinterested in following up when they should, are not keeping to the procedures? Let's hold up the mirror for a second. Are you sweeping those very major concerns under the rug and addressing it? Are you so used to this kind of bad behavior that you've shrugged your shoulders and looked the other way?
A gutsy non-negotiable: if you're not holding others accountable because you've already decided in your mind that they offer no value and you'll just figure out a way to work around them, then I'd like you to consider how well you can be held accountable in return? In other words, if we expect to be held accountable then it's a non-negotiable for us to hold others accountable as well. This serves you in many ways, the first being that you will feel drained and powerless each time you choose to ignore the yellow alerts and look the other way. No action is still action. I can't think of one circumstance in my life where my looking the other way, served me positively. How will that show up when you are in meetings with clients and peers? Or seeing patients? Same deal. Low energy, resignation, possible loss of any enthusiasm you previously held because now your star is tied to someone else. Then god forbid the mental finger pointing starts. Now everyone in the room can feel the friction energetically; you don't have to say a word. As my 9yo would say,"Ugggh mom. Not good."
I say this with love. It's time to give up all of the excuses, blaming and complaining and become solution-oriented when we reach those roadblocks. If you've never come across a team member or peer who has dropped the ball – I congratulate you, you have no idea how fortunate you are. However one day you will, and when that happens – I'd like you to ask yourself one question – "As a leader in my field, how do I hold others whom I'm depending on, accountable so I can meet my commitments to clients, patients, management?" Accountability is more than just doing your job well. It's having the difficult conversations, being uncomfortable and saying what needs to be said with full expectation that change can happen. If you're a parent, think about how that shows up at home with your children. How through your example, you are showing them how they can achieve their dreams by following through with their own commitments and having those difficult conversations at school for example when speaking with peers and educators.
It's that time of year again – if you're ready to take a gutsy breakthrough goal and give it some legs over the next 6-weeks, join our next Gutsy Laser-Coaching Masterclass with me by your side. International conference lines sent. It's time to write that book, attract that ideal role or client, move to a new position – now. The last word in attraction is ACTION, save your seat, enroll here.
Until then, make it a weekend filled with guts and gratitude. Someone out there is waiting – waiting for you to lead them and (oh yes) hold them accountable. ; )
Big squeeze on the way,

Marisa Santoro, Leadership Trainer and Career Coach.
CEO and Founder:  www.inrshoes.com
+1.844.626.3410 | Marisa@inrshoes.com